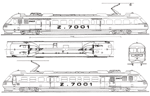 Plan and Elevation views of the Zébulon test vehicle
Over a period of 20 months, Zébulon racked up almost a million kilometers, 25000 of which were run at speeds over 300 km/h (186 mph). The highest speed reached by Zébulon was 309 km/h (192 mph). Prospects were good for project C03, which was fully funded by the French government in 1976. Construction of an electric high speed line from Paris to Lyon began soon after.
Styling: Something New and Different
The styling of the original TGV, inside and out, is due to industrial designer Jack Cooper. He was born in Britain in 1931, before moving to France. In the mid 1950s, he spent several years working under American designer Raymond Loewy, whose most famous designs included the Pennsylvania Railroad's GG-1 electric locomotive [Images]. As early as 1968, when he began working for Alsthom, Jack Cooper was asked to draw up a "train that didn't look like a train".
He designed the TGV 001 turbotrain's look, inside and out, and soon thereafter the TGV design was born. As early as 1975, Cooper was drawing trains that looked surprisingly like the TGV Duplex of twenty years later! While Cooper's design for the train's exterior was immediately accepted, he was sent back to the drawing board numerous times while trying to come up with the interior design, which included everything from seats to door handles.
The many design requirements were sometimes in conflict, and Cooper had to find an optimal solution. The interior spaces had to be welcoming and comfortable, restful, quiet, easy to clean and fix, and smoothly integrated together to create a uniform atmosphere. Comfort was to be made accessible to all passengers while retaining a certain status and flair. The overarching aim was to design an interior space that was both relaxing and enjoyable.
By the late seventies, the design of the first TGV was complete. The first batch of production trainsets was ordered on 4 November 1976. Over the next twenty years, over 600 copies of Cooper's world-famous TGV nose would be built.
Last Minute Problems
On 28 July 1978, two pre-production TGV trainsets left the Alsthom factory in Belfort. These would later become TGV Sud-Est trainsets 01 and 02, but for testing purposes they had been nicknamed "Patrick" and "Sophie", after their radio callsigns. In the following months of testing, over 15,000 modifications were made to these trainsets, which were far from trouble-free. High speed vibration was a particularly difficult problem to root out: the new trains were not at all comfortable at cruising speed! The solution was slow in coming, and slightly delayed the schedule. Eventually it was found that inserting rubber blocks under the primary suspension springs took care of the problem. Other difficulties with high speed stability of the trucks were overcome by 1980, when the first segment of the new line from Paris to Lyon was originally supposed to open. The first production trainset, number 03, was delivered on 25 April 1980.